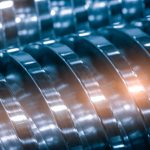 Rotary screw compressors are widely used in various industries to generate efficient and reliable compressed air. Their unique design and operating principles make them superior to other types of compressors. In this blog post, we will discuss the advantages of rotary screw compressors, focusing on their efficiency and power.
1. Efficient Air Compression:
One of the main advantages of rotary screw compressors is their efficient air compression capabilities. Unlike reciprocating compressors, which operate with pulsating airflow, rotary screw compressors offer smooth and continuous air compression. This steady flow reduces energy losses and increases overall efficiency, resulting in significant cost savings.
2. Reduced Energy Consumption:
Efficiency in air compression translates to reduced energy consumption. Rotary screw compressors are known for their ability to deliver more compressed air per unit of energy input compared to other compressor types. This is achieved through their screw element design, which efficiently compresses air without the need for unnecessary energy expenditure. As a result, businesses using rotary screw compressors experience lower energy bills, contributing to long-term cost savings.
3. Increased Capacity:
Another advantage of rotary screw compressors is their high capacity for delivering compressed air. These compressors are built to handle large volumes of air, making them suitable for industrial applications requiring continuous and high-demand air supply. With their ability to operate at a constant flow rate, rotary screw compressors can reliably meet the compressed air requirements of various processes, ensuring optimal productivity.
4. Quiet Operation:
Unlike many other types of compressors, rotary screw compressors operate with minimal noise and vibrations. This is due to their balanced design, smooth rotation, and reduced number of moving parts compared to reciprocating compressors. The quiet operation of rotary screw compressors makes them ideal for indoor installations, where noise reduction is a priority. It also provides a better working environment for employees, reducing noise-related stress and enhancing overall productivity.
5. Extended Lifespan:
Rotary screw compressors are built to withstand demanding operating conditions and offer exceptional durability. With proper maintenance and regular servicing, these compressors can have a longer lifespan compared to other compressor types. Their efficient operation and reduced wear on internal components contribute to their extended lifespan, resulting in lower maintenance costs and improved reliability over time.
6. Versatility:
Rotary screw compressors are available in a wide range of sizes and capacities, allowing businesses to find the perfect fit for their specific compressed air requirements. Whether it's a small workshop or a large manufacturing facility, rotary screw compressors can be tailored to meet the unique needs of any operation. Their versatility makes them an excellent choice for a variety of industries, from automotive and manufacturing to food and beverage processing.
7. Enhanced Control and Monitoring:
Modern rotary screw compressors are equipped with advanced control systems that provide comprehensive monitoring and control capabilities. These systems allow operators to monitor key parameters such as pressure, temperature, and performance in real-time. With the ability to set and adjust parameters, operators can optimize the compressor's operation for maximum efficiency and reliability. Additionally, sophisticated control systems enable remote monitoring and alert notifications, ensuring prompt response to any potential issues and minimizing downtime.
Conclusion:
Rotary screw compressors offer several advantages over other compressor types, with efficiency and power being among the most prominent benefits. Their efficient air compression, reduced energy consumption, increased capacity, quiet operation, extended lifespan, versatility, and enhanced control capabilities make them an ideal choice for industries requiring reliable and cost-effective compressed air solutions. When considering an air compressor for your business, rotary screw compressors should be at the top of your list.
Got Questions? Let Us Help!
Established in 1932, Wenniger Compressor Co. specializes in air compressors, centrifugal pumps, diaphragm metering pumps, fans, generators, high-pressure air compressors, hoists (all types), lubricated reciprocating air compressors, oil separators, refrigerated air compressor dryers, rotary screw, sliding vane air compressors, submersible pumps, and vacuum pumps. Additional services include rental units, parts, lubricants, rotary screw compressors, service calls, routine maintenance, and much more. Our employees are all licensed to help you make the best decision. Contact us today to schedule an appointment or to get an estimate on the perfect service you need.